Who can be Baptised/Christened
For a start, not just your children! Baptism ("Christening") is a gift from God which can be conferred at any age and Father David will be most happy to speak with you about that step in your own Christian journey. It is increasingly common for Parents or Godparents to be be unbaptised; but don't worry as we can arrange this beforehand (usually in a low key midweek service when you are accompanied by close family and friends). There is no need to be embarrassed if you aren't baptised – we can sort that out!
If you live within our parish boundaries or are on our electoral roll (church membership roll) your child can be baptised at St Margaret's. If you aren't sure where the boundaries lie, we will be happy to advise you . If you don't live in our parish your child can only be baptised here with the permission of your own parish priest.
Lone Parents and Unmarried Couples
Baptism expresses God's love for your child and his unconditional welcome for him or her (and you!) We aim to be just as welcoming – whatever form your family takes. Your marital status, orientation or personal circumstances does not have any bearing on whether or not you or your child can be baptized. If anything about your family circumstances worries you we will, of course, be happy to listen and try to help. We seek to be a welcoming and inclusive church that does not judge but is committed to showing God's love to all.
When does it take place
Sunday Mass at 1000. It will last about 60-70 minutes. We include Baptism in the service of Holy Communion because you are joining a new family across the world and time represented by the congregation and also because it is the beginning of being a Christian and Holy Communion feeds us and enables us to do that. There may be good exceptional circumstances for organising a baptism elsewhere or at a different time – please feel free to discuss this with the Father David (07768 687605 or email vicar@saintmargaretsleigh.org))
Booking the Baptism/Christening
To book or make enquiries about Baptism at our Church, you will need to contact Fr. David either by email or on 07768-687605. We cannot take firm bookings over the phone, but if you would like to talk to Fr. David about it at any time you are welcome to call or email.
Baptism-Application-Form This form is essential as without the completion of this form, the baptism cannot take place.
The key response we will make is come to Sunday Mass which commences at 10:00am and lasts no more than one hour.
Is there some preparation? This depends on you and where you are coming from in your life; however Father David will visit you at home and hopefully introduce you at church to other folk in similar situations. There is no onerous study course although the Church makes clear that Baptism is even more important than marriage and you wouldn't just turn up for that on the day with no preparation beforehand.
We will be happy to make a tentative date for the baptism when you make the booking, but the baptism cannot take place unless you have been appropriately prepared. If work circumstances make this requirement difficult, then Fr David will advise you further, as Mass is held during the week and in the evenings also.
Godparents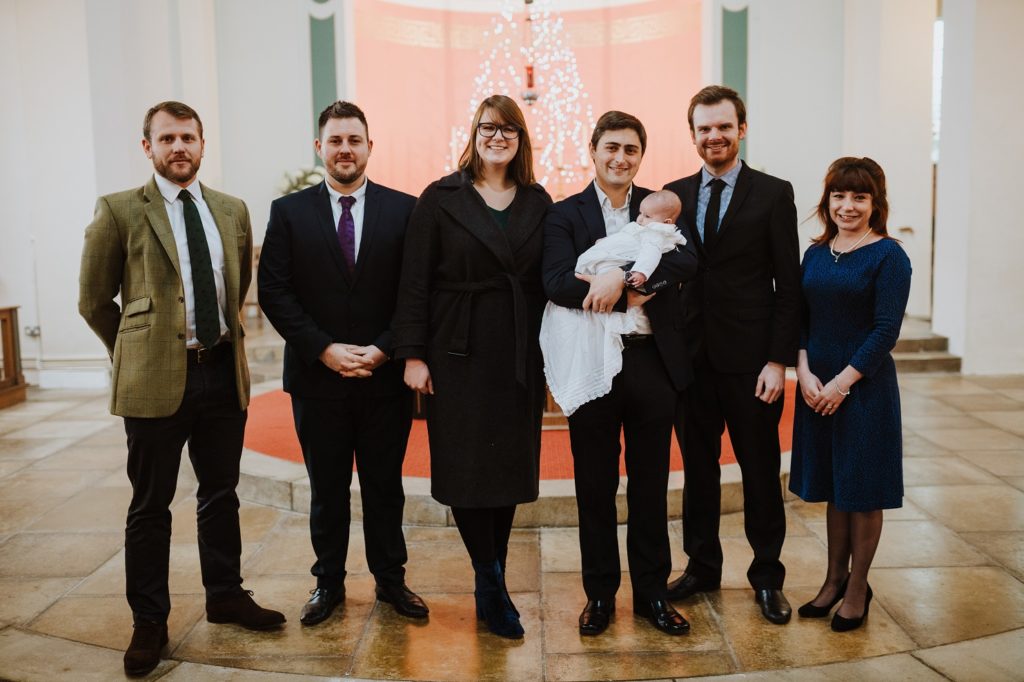 Godparents for younger children need to be baptised themselves in a mainstream Christian denomination and preferably practising communicant members of the Church. People of other faiths or none may be supporters but they cannot be Godparents. A young child must have at least two godparents – male and female.
Godparents should be adults, or if they are older teenagers, they should have been confirmed to affirm their commitment to an adult faith. A useful rule of thumb is that they need to be old enough to be responsible parents if they are to be responsible godparents. Sometimes we have requests for older brothers or sisters to be godparents, but unless they are adults this is usually not appropriate and we would rather involve them in the service in other ways – for example, holding the candle.
Photo by Jackie Soilleux – Facebook or email
Godparents must be baptized themselves, and preferably confirmed. Baptism is a good opportunity for both parents and Godparents to think about their own faith and commitment, since both will be making wide-ranging and serious promises during the service. If someone wishes to be a Godparent but has not been baptized, then Father Davis is happy to baptize them as well, either in an evening service or in another large celebration.
Adults don't need Godparents as they can answer for themselves, but they can have "sponsors" and they will be invited to pray with and over you (and to continue to do so on your journey of faith) with the priest. You might choose someone who has been a part of your faith journey, a friend, fellow church member or relative to be a Sponsor.
We insist that Godparents must be able to be present at the service to be able to make the important promises they are required to make. What would you think if a bride or groom was unable to be present at a wedding?
Costs
Baptism is a free gift from the Church. There is no fee for Baptism, but we do need your help and do suggest a donation but we will not turn away anyone unable or unwilling to help us out – the Church's primary mission is to Baptise the whole world, so do not be put off if cost is an issue.